Are you tired of feeling...
Like you've practiced yoga for years, but aren't getting any stronger?


Despair at watching your body age?


Weak and constantly exhausted?


Disappointed in your muscle tone?


Like you're missing out on fun physical activities?
Is strength training right for you?
What if you could build resiliency?
We all need to do more strength training. As yoga people, we tend to focus on stretching. 


But it's actually "strength" that protects us as we age. It's strength that gives us resiliency.
Let's get stronger. Together.
What if it could feel sustainable?
The surprising truth is that yoga asana is not the best way to build strength. 


Using body weight and resistance bands, this course teaches you simple techniques to build strength in your home practice.
- Protect your joints
- Increase core stabilization
- Build strong glutes
- Train responsive abs
- Sustain postural alignment
Created by a yoga therapist, this course is a brilliant mix of asana and strength training. 


With skill development designed to keep you safe, you'll learn to trust your body. 


Plus self-assessment modules and modifications meet you (and your students) where you are.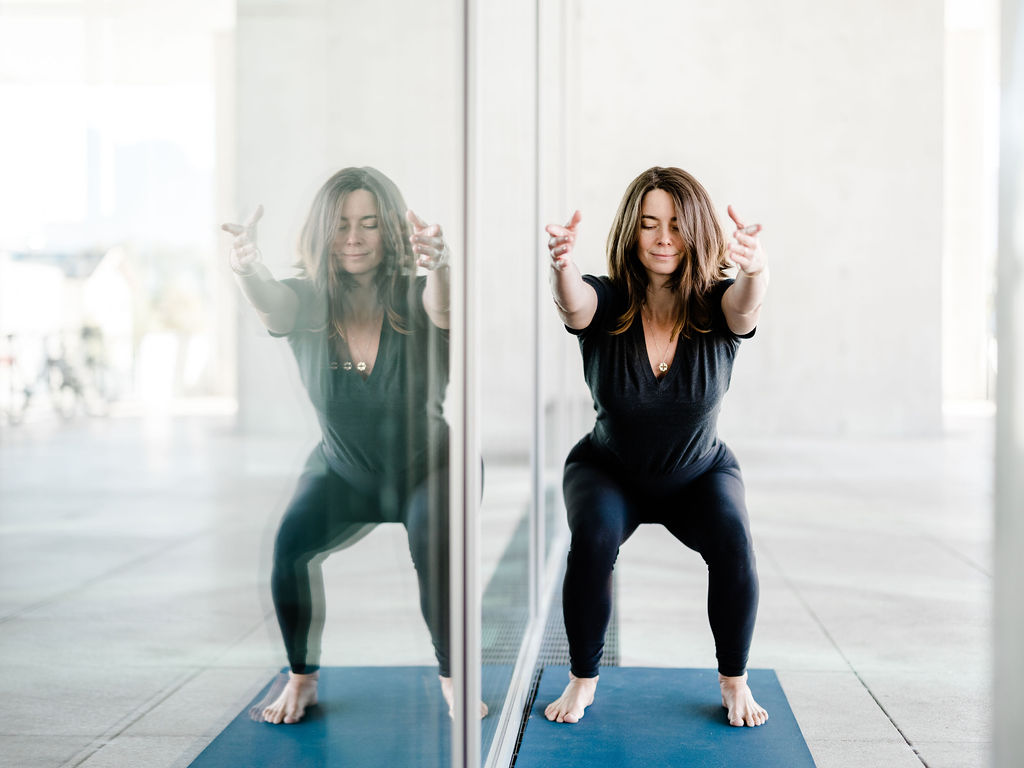 This course is functional.
We're obsessed with functional movement, which means growing our capacity in daily life. 


To that end, each of the five weeks focuses on a different elemental movement pattern: 


- Squat and Lunge 
- Hinge
- Push and Pull
- Rotate
- And Walking
Yoga is a breath practice. 


So, when we bring strength training onto the mat, we do it from a sensory perspective. 


Somatic learning means slowing down and feeling movement from the inside out. 


No timers. No loud music. No ignoring your body's signals to stop. No pain, no pain.
This course is efficient.
Who wants to spend the whole day pumping iron? Not us. 


Our goal is effective, targeted training. You'll learn how to create maximum output from minimum input. 


Because we believe that discipline is about consistency, not about force.
This course is self-paced.
Built around a 5-week plan, the course is entirely self-paced. So you can work at your own pace.


Each week includes:


A complete somatic strength training sequence video.





The training sequence as a printable PDF. You'll fall in love with Mary's stick figure drawings!





Key concepts, self-assessment, and modification videos that you can watch on your own schedule. 





Plus, you'll have access to our private student forum to ask Mary questions, share your victories, and connect with other students.
We know you're more likely to practice movements that you enjoy. 


And you're more likely to complete a course that includes laughter. 


That's why we're very serious about having a good time on the mat.
What do past students say?
"Studying with Mary online was an absolute delight! I learned so much and loved every blissful minute of it!" - Elizabeth

"Wow! What a course. It was worth every cent and every second of my attention." - Cath

"Perfect! Amazing blend of science, technique, philosophy and practical application to our daily lives." - Beth

"The material and exercises are fabulous!" - Tami

"What a wonderful course to teach ourselves to live in our bodies. I'm forever grateful!" - Emiko

"Mary is a wealth of knowledge and Lizzie is om-amazing asking the questions and keeping the dialogue down to earth and easy to follow." - Alina

"Just what I needed to bring me back to center." - Karen

"More than I could have imagined. And presented in a manner that has helped me make this information retainable." - Margaret

"Awesome body brain connections! My body feels so much looser." - Astrid

"I feel whole and renewed. Thank you so much for offering this course. It is exactly what I needed and didn't even know it!" - Nicole
A former college athlete, Mary Richards began practicing yoga in 1992, and teaching in 2002.


She's a gifted teacher and joyful anatomy nerd who holds a Master's of Science in Yoga Therapy. Her practice and teaching are informed by personal experience from a decade of joint pain and surgical repair. 


With two kids in college, Mary is an empty-nester based in Alexandria, Virginia. She lives with her husband, dog, and Penelope, the yoga cat who steals the show every time she makes an appearance on Zoom.
Lizzie rowed varsity crew as a teenager at Andover in the late 1990's. That's pretty much the last time she did any strength training. Until she recently lost over 28 kg (61 lbs) after giving birth to twin boys.


Lizzie grew up in California, where she began teaching vinyasa yoga in 2004. She then studied design at Columbia University in New York City, where she met her Austrian husband.


She now lives in Salzburg, producing and hosting Zoom yoga courses, and writing a free newsletter: 
Rest with Lizzie Lasater
.
Course curriculum:
Packed with theory, practice, demos, modifications, and fun!
Somatic Strength - Welcome Video

Week 1 - Training Sequence

Week 1 - Group Training Session

Week 2 - Training Sequence

Week 2 - Group Training Session

Week 3 - Training Sequence

Week 3 - Group Training Session

Week 4 - Training Sequence

Week 4 - Group Training Session

Week 5 - Training Sequence

Week 5 - Training Session
About this course
$249.00

46 lessons

13.5 hours of video content
What is your refund policy?

We offer a 95% refund policy. Just email us within one week of enrolling, and we can reverse the charge (minus third party credit card fees) back onto your credit card. No questions asked.

When does my course access expire?

This is a self-paced course. We want you to feel spacious, but we also want you to encourage you to move through the material. So you'll have one year from the day you enroll.

When does this course start?

Your Somatic Strength learning starts the moment you enroll. The course is self paced, all of the content is already waiting for you.

I'm a teacher, can I receive Continuing Education credits?

Yes! You'll receive a certificate for 20 hours of continuing education that you can submit to Yoga Alliance, or similar international organization.

Is this course accessible for a 62-year old woman with rotator cuff issues? I have been told not to do strength training exercises that put pressure on my shoulders.

From Mary: I have scanned the 5 training series for the course. There are 11 exercises that involve weight-bearing through the upper extremity, typically on the forearms. While all of these exercises will be instructed with modifications, e.g., at the wall vs. floor, open- vs. closed-chain variations, the shoulders and arms are intentionally challenged in these exercises. Some of the exercises, such as Bent-over Rows and Arm Circles, are also utilized in various shoulder rehab series that would likely be familiar to you given your rotator cuff situation. However, if you have been directed by your HCP to avoid weight bearing in the arms in Plank Pose, whether forearms based or not, then this course may leave you wanting. You are certainly welcome to skip the arm/shoulder exercises, but they are a significant portion of the 45 exercises that will be shared. 

I have wrist arthritis, and chronic pain all over. I also want to take the course with my 70+ year old mother who has osteoporosis. Is this course right for us?

Answer from Mary: This course is appropriate for you and your Mom so long as you don't overdo it on your end. (And you check with your healthcare providers, of course.) The training series are intended to accommodate a wide range of ability levels. Since our emphasis is on functional, accessible strength training, we include a modifications video for each weekly lesson in the course platform. I will also offer real-time options during each training session as well.

What are the differences between Somatic Strength and Mary's Asana Lab series?

From Mary: There is overlap with some of the exercises and functional movement concepts shared in the Asana Lab series. There are also plenty of differences: different exercises with more resistance band use, more discussions about movement and body training, and training series specific to this course. Also, the format is different. Each weekly lesson includes multiple PDFs, videos, and the like. We've also got a course discussion board. For each group training session expect 45-50 minutes of exertion, a brief recovery period, and short check in. We are aiming for a live class feel!

I have a different question. Who can I contact?

Lizzie is here to answer your enrollment questions. Please email her directly at [email protected]