Why is yoga philosophy essential for your practice?
The word yoga usually means physical postures. Most yoga classes are taught with the physical body in the foreground. Most of what the teacher says during class, sometimes called cues, instruct the student how to move their body. 
But what is the background of yoga? What can we learn by exploring the profound philosophy of this ancient discipline? How can this philosophy inform and uplift our asana practice? Inform and uplift our lives?
When you just focus on your body, and ignore the study of yoga philosophy, you miss out on a vast depth of study that brings sweetness to your practice. It's like going on a roadtrip without a map.
So is yoga philosophy still relevant today? Absolutely. 
Sure, we live in an era of jet engines, climate change, and social media, but the insights of yoga philosophy – about the nature of the mind and how to find relief from the suffering we cause ourselves – could not be more urgent.
Join us to explore the rich philosophical underpinnings of yoga. We'll concentrate on a single key text: The Yoga Sutra of Patanjali.
Yoga is a living practice...
What is the Yoga Sutra of Patanjali?
"The Yoga Sutra of Patanjali is a collection of Sanskrit sutras (aphorisms) on the theory and practice of yoga. They were compiled in the early centuries CE, by the sage Patanjali in India who synthesized and organized knowledge about yoga from much older traditions." Read more here.
One of the foundational texts for our modern practice, Patanjali writes about what prevents us from entering the state of yoga. This text, philosophical yet deeply practical, offers a guide to Sadhana - your spiritual path home to yourself.
Yoga Sutra of Patanjali translated by Georg Feuerstain
Learn at your own speed
with immediate access to the entire course.
Begin as soon as you enroll.

Enjoy the 6 pre-recorded (30-45 minute) audio conversations. No rush!

Watch the 3 (two hour) recorded classes on your own schedule.

Ask questions via our private forum. No Facebook required!

Practice Savasana with the guided Restorative Setup.

Take 12 spacious months to access the course material.
Ph.D., Physical Therapist

Judith Hanson Lasater
Judith Hanson Lasater has taught yoga since 1971. She holds a doctorate in East-West psychology and is a physical therapist. Dr. Lasater is the president emeritus of the California Yoga Teachers Association and is one of the founders of Yoga Journal magazine. She trains yoga teachers in asana, kinesiology, yoga therapeutics, and the Yoga Sutras, and she is a pioneer in the teaching and practice of Restorative yoga. Dr. Lasater is the author of eleven books on yoga.
Yoga Teacher and Designer

Lizzie Lasater
Raised in San Francisco, and educated at Columbia University, Lizzie Lasater is a yoga teacher and designer who shares her work via live online events, her free newsletter "Rest with Lizzie Lasater", a spirit jewelry collection, videos on YouTube, and posting on Instagram. Lizzie lives in Salzburg with her Austrian husband and three-year-old twin boys. 
Why study with Judith and Lizzie?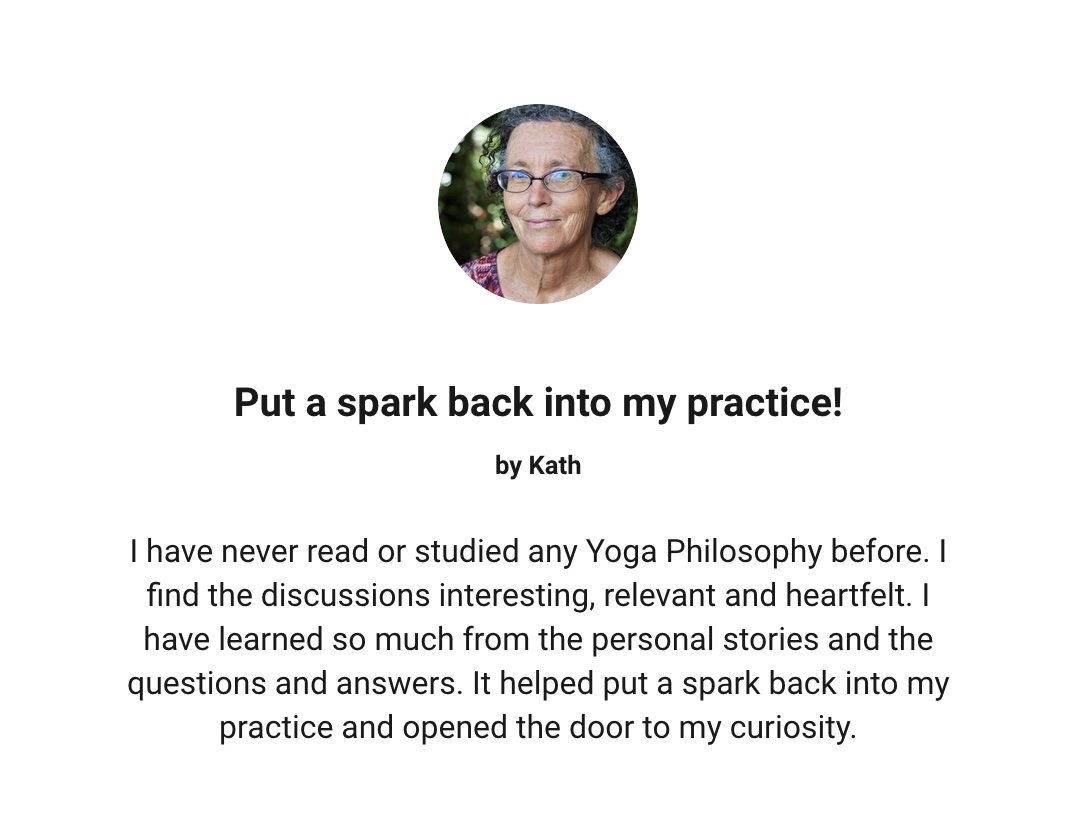 We're so glad you're here

Lesson 1: Ancient Wisdom Modern Lives

Restorative Savasana Set-Up

Recommitting to Living the Yamas, Part 1

Recommitting to Living the Yamas, Part 2
About this course
$299.00

16 lessons

6 hours of video content
Can I receive Yoga Alliance credit?

Yes. At the end of the course you will receive a certificate of completion for 20 non-contact hours. After that, you can submit for continuing education credit from Yoga Alliance in the United States. If you live outside the USA, please ask your equivalent organization if they accept digital training as non-contact hours.

When does my course access expire?

Relax and take your time - that's the digital advantage. You have unlimited access to the Practicing Patanjali material for one full year.

Do I need to purchase additional materials?

We suggest you have at least one copy of the 'Yoga Sutra of Patanjali'. Students also receive a list of Judith's favorite sutra translations and suggested further reading.

Can I ask questions during the course?

Yes, you can submit questions for Judith and Lizzie to answer directly through our private forum. No Facebook required!

What is the refund policy?

We want you to be 100% delighted with your learning experience. If, for any reason, you're disappointed after your first three days enrollment, we will be happy to issue a full refund.
Enrollment options
Two ways to join the learning adenture: